The assassination of John F. Kennedy, 1963
A primary source by Dow Jones News Service
View this item in the Collection.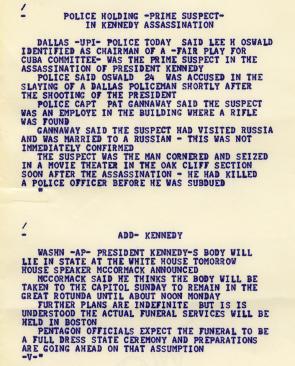 On November 22, 1963, President John F. Kennedy was assassinated by Lee Harvey Oswald in Dallas, Texas. This Dow Jones News Service ticker tape tells the story of that day as it happened. The fifteen sheets span the entire day of the assassination. The tape starts out mundanely enough, noting Kennedy's morning speech in Fort Worth and his plans to appear in Dallas later in the day.
The reports turn grim, however, reporting the panic, confusion, and tragedy of Kennedy's murder. An initial report of the shooting describes the scene: "PRESIDENT KENNEDY WAS SHOT TODAY JUST AS HIS MOTORCADE LEFT DOWNTOWN DALLAS — MRS KENNEDY JUMPED UP AND GRABBED MR KENNEDY — SHE CRIED OH NO— THE MOTORCADE SPED ON." Another notes that the President has been taken to a hospital, but "TWO PRIESTS WHO WERE WITH KENNEDY SAY HE IS DEAD OF BULLET WOUNDS." An update soon confirms the report of the President's death: "KENNEDY DIED OF A GUNSHOT WOUND IN THE BRAIN AT APPROXIMATELY 1 P M."
Further updates try to make sense of the events, reporting on the search for an assassin and Oswald's capture. The tape also reports Vice President Lyndon Johnson's swearing in aboard Air Force One that afternoon: "MR JOHNSON BECAME THE 36TH PRESIDENT OF THE U S AT 2 39 CENTRAL STANDARD TIME — THE PLANE MARKED AIR FORCE 1 WAS STILL PARKED WHERE IT HAD LANDED TO BRING PRESIDENT KENNEDY TO DALLAS THIS MORNING."
A full transcript is available.
Questions for Discussion
You are seeing this page because you are not currently logged into our website. If you would like to access this page and you are not logged in, please login or register for a gilderlehrman.org account, and then visit the link that brought you to this notice. Thanks!
Metadata
Make Gilder Lehrman your Home for History
---
Already have an account?
Please click here to login and access this page.
How to subscribe
Click here to get a free subscription if you are a K-12 educator or student, and here for more information on the Affiliate School Program, which provides even more benefits.
Otherwise, click here for information on a paid subscription for those who are not K-12 educators or students.
Make Gilder Lehrman your Home for History
---
Become an Affiliate School to have free access to the Gilder Lehrman site and all its features.
Click here to start your Affiliate School application today! You will have free access while your application is being processed.
Individual K-12 educators and students can also get a free subscription to the site by making a site account with a school-affiliated email address. Click here to do so now!
Make Gilder Lehrman your Home for History
---
Why Gilder Lehrman?
Your subscription grants you access to archives of rare historical documents, lectures by top historians, and a wealth of original historical material, while also helping to support history education in schools nationwide. Click here to see the kinds of historical resources to which you'll have access and here to read more about the Institute's educational programs.
Individual subscription: $25
Click here to sign up for an individual subscription to the Gilder Lehrman site.
Make Gilder Lehrman your Home for History
---
Upgrade your Account
We're sorry, but it looks as though you do not have access to the full Gilder Lehrman site.
All K-12 educators receive free subscriptions to the Gilder Lehrman site, and our Affiliate School members gain even more benefits!